ROG Strix XG43UQ HDMI 2.1 Gaming Monitor — 43-inch 4K UHD (3840 x 2160), 144 Hz, 1ms MPRT, HDMI® 2.1, AMD FreeSync™ Premium Pro technology, Display Stream Compression (DSC), Extreme Low Motion Blur (ELMB) Sync, DisplayHDR™ 1000, DCI-P3 90%, Shadow Boost, Remote Control
WORLD'S FIRST 43-INCH HDMI 2.1 GAMING MONITOR
ROG Strix XG43UQ is the world's first 43 inch HDMI® 2.1 gaming monitor, delivering 4K UHD visuals and a 1 ms moving picture response time (MPRT) for superfast gaming on a big screen. Featuring Display Stream Compression (DSC) and AMD FreeSync™ Premium Pro technology, Strix XG43UQ enables supersmooth 4K 120 Hz gaming on the latest consoles via HDMI 2.1. Plus, a 90% DCI-P3 color gamut and DisplayHDR™ 1000 certification ensure true-to-life colors.
SUPERFAST GAMING WITH HDMI 2.1
HDMI 2.1 enables mind-blowing gaming experience on the latest consoles, providing gamers with native 4K UHD visuals at astounding refresh rates of up to 120 Hz without chroma subsampling.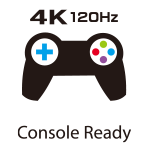 Variable Refresh Rate (VRR)
Auto Low Latency
Native 4K @120Hz refresh rate
GOING BIG WITH NEXT-GEN GAMEPLAY
It gets even better on PC, with up to 4K 144 Hz visuals when powered by the latest graphics cards. DSC technology supports 4K UHD visuals via a single DisplayPort 1.4 connection by compressing and decompressing each frame on the fly, with no loss in image quality.
ULTRAFAST 144HZ REFRESH RATE AND 1MS MPRT
From fast-paced first-person shooters to real-time strategy, play the latest games at their highest graphics settings at a buttery-smooth 144 frames per second with near-instantaneous 1 ms moving picture response time (MPRT).
AMD FREESYNC PREMIUM PRO FOR SMOOTH GAMEPLAY
Built-in FreeSync Premium Pro technology ensures that ROG Strix XG43UQ delivers supersmooth, low-latency visuals that are brighter and have better contrast. This technology uses low-latency processing for both standard and HDR content to eliminate the input lag that's typically associated with HDR content.
HIGH DYNAMIC RANGE (HDR) WITH EXCEPTIONAL COLORS
A DCI-P3 90% color gamut and outstanding color contrast ensure ROG Strix XG43UQ meets DisplayHDR 1000 certification standards. Experience true-to-life colors along with the brightest whites and darkest black hues.
MULTIPLE HDR MODES
Three HDR modes ensure optimal visuals for any viewing scenario.
ASUS DYNAMIC SHADOW BOOST
This technology automatically clarifies dark areas of the image without changing other areas. It makes it easier to spot enemies hidden in dark areas of the map and improves the overall viewing experience.
EXTREME LOW MOTION BLUR (ELMB) SYNC
With ELMB Sync, low-motion-blur technology and adaptive-sync can be enabled simultaneously to eliminate ghosting and tearing for super-sharp, high-frame rate gaming.
GAMEVISUAL
ASUS GameVisual gives you seven preset display modes and one user mode tailored to suit different types of content.
GAMEPLUS HOTKEYS
The ASUS-exclusive, integrated GamePlus hotkey offers in-game enhancements that help you get more out of your game.This function is co-developed with input from pro gamers, allowing them to practice and improve their gaming skills.
MULTIFRAME
MultiFrame allows users to organize multiple windows on desktop and to arrange them in an orderly way so that they don't overlap on a big screen.
ULTRA-LOW BLUE LIGHT TECHNOLOGY
ROG Strix XG43UQ comes with TÜV Rheinland-certified ASUS Ultra-low Blue Light filters to protect eyes and prevent strain from harmful blue light. Select from four different filter settings via the OSD menu or by using the five-way joystick.
FLICKER-FREE TECHNOLOGY
ROG Strix XG43UQ reduces onscreen flicker to give you a more comfortable gaming experience. This minimizes eye strain during marathon gaming sessions.
AURA SYNC LIGHTING
Exclusive ASUS Aura Sync* lighting technology provides ambient lighting that can be synchronized with other Aura-enabled components and peripherals.
*Download the latest Aura Sync software here.