ROG Azoth gaming custom keyboard with 75 keyboard form factor, gasket mount, three-layer dampening foam and metal top cover, highly customizable with hot-swappable pre-lubed ROG NX mechanical switches, ROG keyboard stabilizers, PBT doubleshot keycaps and lube kit, tri-mode connection with 2.4 GHz SpeedNova technology, OLED display, three-way control knob, three tilt angles, and Mac support
Unique gasket mount design: Silicone gasket mount with three layers of dampening foams combine to provide an unrivaled typing experience
Tri-mode connection: Use Bluetooth® to connect and switch between three devices at a time, ROG SpeedNova wireless technology provides up to 2,000+ hours of low-latency gameplay in 2.4 GHz RF wireless mode (OLED & RGB off), or use standard wired USB
OLED display and intuitive controls: View system info and keyboard settings at a glance; built-in three-way knob allows for quick settings adjustment
Hot-swappable ROG NX mechanical switches: Pre-lubed switches for smoother clicks and eliminates bouncing noises respectively; fast actuation and ROG-tuned force curves provide great keystroke feel and consistency
Enhanced typing experience: Pre-lubed keyboard stabilizer produces less friction for smoother keystrokes and stability for longer keys; durable ROG PBT doubleshot keycaps offer a premium feel
Switch lube kit: Bundled essentials including Krytox™ GPL-205-GD0 lubricant to get beginners started on keyboard DIY
Ergonomic design: Two pairs of keyboard feet of different heights provide up to three tilt positions
MacOS support: Easily toggle between Windows and MacOS modes
TRANSCEND THE LIMITS
ROG Azoth is a 75% gaming keyboard bristling with DIY features traditionally found on premium custom keyboards. A metal top cover with silicone gasket mount and three-layer dampening, hot-swappable, pre-lubed ROG NX mechanical switches and keyboard stabilizer, ROG PBT doubleshot keycaps and bundled switch lube kit combine to create unprecedented typing experiences. ROG Azoth also has an OLED display with intuitive controls, versatile tri-mode connectivity with SpeedNova wireless technology in 2.4 GHz mode, three adjustable tilt positions, and MacOS support.
This sophisticated 2-inch OLED panel can set to show keyboard status, including Caps Lock, connection mode and PC/Mac mode indicators. It can also show battery level, multimedia info, custom animations, as well as system parameters such as CPU temperature.
Intuitively make adjustments and tweak settings with the three-way control knob & side button and OLED display.
Versatile Tri-Mode Connection
ROG SpeedNova wireless technology offers up to 2,000+ hours of stable, uninterrupted near-zero-latency gameplay in 2.4 GHz RF mode (RGB and OLED off). Alternatively, you can use Bluetooth mode to connect to up to three devices at the same time, or charge and play simultaneously in wired USB mode.
A Typing Feel Like No Other
Silicone Gaskets

Silicone gasket mount design gives the Azoth a more cushioned and pleasant typing feel than traditional mechanical keyboards

Silicone Pad

Durable 3.5 mm-thick silicone pad to absorb noise

PORON® Foam

PORON® foam to absorb case ping and hollowness
Silicone Foam
Silicone foam-lined base case completely eliminates echoes and ensures a flat surface for the PORON® foam
ROG NX Mechanical Switch
ROG-exclusive gaming switch –
Tuned for great keystroke feel and consistency with fast actuation.
Better Typing Experience
ROG Keyboard Stabilizer

This pre-lubed keyboard stabilizer has been specially tuned with gamers in mind; it produces less friction, allowing long keys such as Spacebar, Shift and Enter to deliver keystrokes that stay true to the original switch feel.

* ROG Azoth is also compatible with costar stabilizers.

ROG PBT Doubleshot Keycaps

ROG PBT doubleshot keycaps provide a unique and premium feel, as well as offer long-lasting durability. Key design has been optimized with mid-height keycaps (similar to Cherry profile keycaps) and a shorter stem to reduce key wobble, and provide a more comfortable user experience.

* Keycap material may vary by region.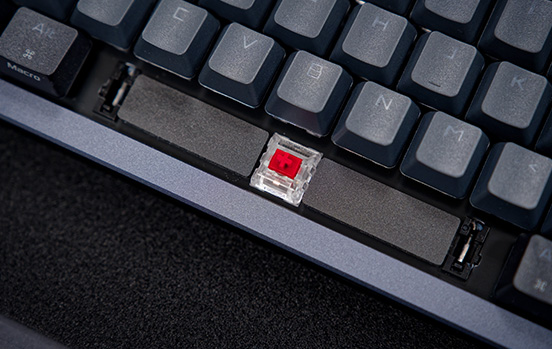 Extra Tuning
The Spacebar has extra lubing and modification for enhanced acoustics and feel.
Ergonomic Design
The Azoth includes two pairs of keyboard feet of different heights, giving it three tilt angles to suit your preference.
Hands-On with your Custom Keyboard
Hot-Swappable Switches*

Swap and install your preferred switch type for a unique, customized feel.

*Even though the switches are hot swappable, it is not recommended to swap out switches when the keyboard is on to prevent short circuiting the keyboard.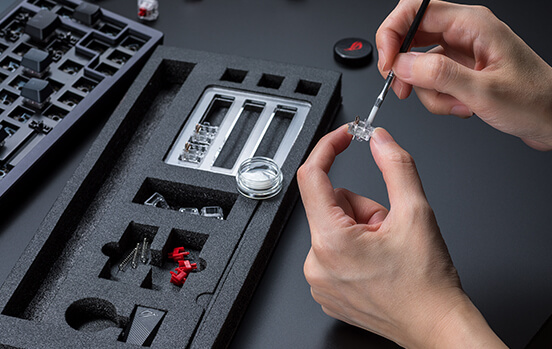 DIY Switch Lube Kit
The ROG Azoth includes a complete set of tools for DIY switch lubing. The kit includes a switch opener, keycap puller, switch puller, lube station, brush, and bottle of Krytox™ GPL-205-GD0 lubricant.
ON-THE-FLY MACRO RECORDINGS
Record macros on the fly and map them to fully programmable keys.
ONBOARD MEMORY
Save up to six profiles, including up to five custom schemes, and use them anytime, anywhere.
100% ANTI-GHOSTING & N-KEY ROLLOVER
Every keystroke is registered accurately, no matter how many keys are pressed.
MACOS SUPPORT
Easily toggle MacOS mode to remap the keys for use with MacBooks and Macs.