Your most productive view
Immersive productivity: See more and achieve more at home or in the office on this 34-inch ultrawide WQHD (3440 x 1440) curved screen. With more onscreen space, you can multitask effectively—without the need for a dual monitor setup. Plus, the three-sided, ultra-thin borders let you dive in without distraction.
All-encompassing view: The 3800R screen curvature creates an ultrawide 21:9 field of view, minimizes reflection and offers near uniform visual focus, for a more comfortable visual experience over extended viewing periods.
Unparalleled focus: Focus more on your work at home or in the office with a panoramic view, extended peripheral vision and incredible depth.
Consistent views: Expect seamless, wide viewing angles no matter where you sit, thanks to IPS technology.
Product brochure: Download the PDF file for the Dell 34 Curved USB-C Monitor – P3421W.
Stylish redesign. Elevated comfort.
Designed with you in mind: Navigate the menu and adjust screen settings with the easy-to-use joystick control. We've also given you the option to effortlessly snap on the magnetic Dell Slim Soundbar – SB521A. It's time to elevate your listening experience.
Beauty meets function: This sleek monitor features a small base and an improved cable management design that hides cables in the monitor riser, for a clutter free desk space at your office or home office.
Comfort is key: Tilt, swivel and adjust the height of your monitor to a maximum of 150mm because you should be comfortable however and wherever you work.
Comfort without sacrificing color: Optimize eye comfort with a flicker-free screen and ComfortView Plus — an always on, built-in technology that reduces potentially harmful blue light emissions while delivering excellent color accuracy.
Convenient connectivity
The power of USB-C®: Get up to 65W of power delivery via USB-C, so you can keep your laptop battery full and enjoy uninterrupted productivity. This single-cable solution also saves up to 72% of workspace setup time, reduces cable clutter and transmits power, data and audio—all at once.
Multitask efficiently: Connect two PCs to the monitor and display the content at the same time with Picture-by-Picture (PbP) and Picture-in-Picture (PiP) features. Use the KVM (keyboard, video and mouse) feature to edit content from two different PCs using a single keyboard and mouse.
Quick convenience: Plug in whatever you need and keep it in reach with the two, SuperSpeed USB 5Gbps (USB 3.2 Gen1) quick access ports.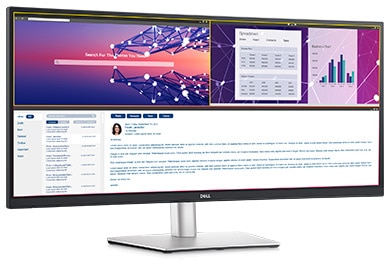 Improved Dell Display Manager
Productivity at every level: Easy Arrange allows you to easily tile multiple applications across one or more screens with 38 pre-set window partitions and the ability to personalize up to five windows, giving you improved multitasking abilities.
Seamless transitions: The auto-restore feature remembers where you left off, so applications will go back to where you left them, even after you've unplugged.
More ways to manage: Asset management reports allow IT managers to quickly capture and track monitor information as well as configure multiple monitors at once through a single setup.
The key to convenience: Shortcut keys can save you even more time, letting you easily configure your display management settings so you can get to work faster.
Green thinking: For today and tomorrow
Environmental standards: This monitor meets the latest regulatory and environmental standards such as EnergyStar®, EPEAT®, China Energy Label CEL and CECP.
Eco-conscious packaging: To reduce our manufacturing impact on the environment, this monitor is shipped Styrofoam-free and the packaging is made of at least 75% recycled cardboard.
Energy conservation: Save energy when your monitor is not in use with PowerNap, a feature that dims or puts your monitor to sleep when it's not in use.
Advancing sustainability: Dell Technologies is committed to reducing environmental impact throughout the product lifecycle. Read more about our commitment to sustainability and our 2030 Social Impact goals here, and our product's carbon footprint here.

Connectivity Options
Ports & Slots:
1. Power connector | 2. HDMI port | 3. DisplayPort | 4. USB-C port | 5. SuperSpeed USB 5 Gbps (USB 3.2 Gen1) upstream port | 6. USB 2.0 downstream port (2) | 7. SuperSpeed USB 5 Gbps (USB 3.2 Gen1) downstream port (2) | 8. Stand lock featureCables Included:
1. Power cable | 2. DisplayPort cable | 3. HDMI cable | 4. USB-C cable (USB 3.2 Gen1 (5 Gbps)) | 5. USB 3.2 Gen1 (5Gbps) upstream cable