The fi Series standard ADF scanner offers superior performance
The fi-7160 provides unmatched performance and market-leading document imaging capabilities. Even with its compact size, the device scans A4 portrait documents at 60 ppm/120 ipm (200/300 dpi), and is capable of loading up to 80 sheets at a time and scanning up to as many as 9,000 sheets a day.
Skew Reducer to ensure stable feeding
Paper Protection function to protect documents from damage
Ultrasonic multi-feed detection for security against lost images
Backlit LCD for easy operation viewing
Comes with PaperStream IP and PaperStream Capture providing advanced image processing functions
PaperStream Capture Pro available as an option

 Datasheet (2.59 MB)
Features
Safe and reliable scanning for a seamless workflow
The fi-7160 provides stable paper feeding mechanisms, and ensures speedy and high quality scanning without relying on PC performance.
Prevent multi-feed errors with reliable feeding functions
With brake rollers functioning as the fundamental mechanism to separate each sheet of paper for clean feeding, the scanner's high quality technologies provide reliable paper feeding. The Skew Reducer also helps improve feeding performance and prevents re-scanning that can result from document edges getting cut off. Even if papers jam, the Paper Protection function keeps precious documents safe by detecting anomalies in sound and monitoring paper feed distance so that users can comfortably scan their important business documents.
Skew Reducer
Independent separator rollers ensure that a document that is skewed will not affect the alignment of following sheets.

Minimizing risk of document damage with Paper Protection function
The Paper Protection function detects anomalies in sound and monitors paper feed distance. The fi-7160 keeps your important papers from being damaged.
Stress-free usability with a compact and user-friendly design
Suitable for any offices
With a very compact design, the fi-7160 fits on use anywhere, such as on desks, countertops, and inside small offices.
Easy and comfortable scanning operations
Use the LCD operation panel and backlit display, to scan directly from the scanner with the job-registration function, and complete various operations from adjusting scanning settings to checking existing error statuses on the scanner itself.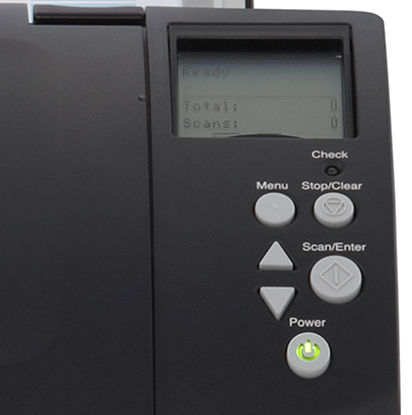 Advanced software for maximized efficiency
Connect business workflow with PaperStream IP and PaperStream Capture
The PaperStream IP scanner driver, supporting both TWAIN/ISIS, eliminates the need of making fine setting adjustments for OCR processes. It automatically converts images into exceptionally clean images, accelerating OCR even when scanning wrinkled, soiled and patterned documents.
With an intuitive interface, PaperStream Capture allows users to feed information into their organization's workflow through various capture features during batch scanning effectively and efficiently.
Streamline workflow with automatic functions
The software is designed to maximize administrator and user usability. Operation is simple to eliminate time spent on sorting scanned images and boost overall productivity.
Documents divided with barcodes and patchcodes are automatically sorted into appropriate folders with a few quick configuration processes. Automatic sorting allows users to load mixed batches while focusing on other tasks.
Utilize advanced optional capture software – PaperStream Capture Pro
A high-quality, front end scanning software, PaperStream Capture Pro, enhances fi Series scanners' superior scanning abilities with an improved feature set that includes options for high level data extraction and indexing, the import of electronic images, and support for multi-station licensing.