Samsung 500GB T5 Portable SSD USBC, External Solid State Drive, Gold
SAMSUNG 500GB T5 External SSD ,
Portable Solid State Drive,
540MB/s Transfer Speed,
V-NAND Technology,
USB 3.1 Gen 2 Interface,
TYPE C, Shock Resistant
Smaller than the average business card
weighing just 1.80oz,  0.41″ thick
The compact, light and slim design
Storage Made New
The Samsung Portable SSD T5 elevates data transfer speeds to the next level and unleashes a new experience in external storage. With a compact and durable design and password protection, the T5 is truly easy to carry and stores data securely.
Fast transfer speeds
With Samsung V-NAND flash memory and a USB 3.1 Gen 2 interface, the T5 provides transfer speeds of up to 540 MB/s*, that's up to 4.9x faster than external HDDs**. Transfers and backups of large-sized data including 4K videos and high-resolution photos will be much quicker and faster.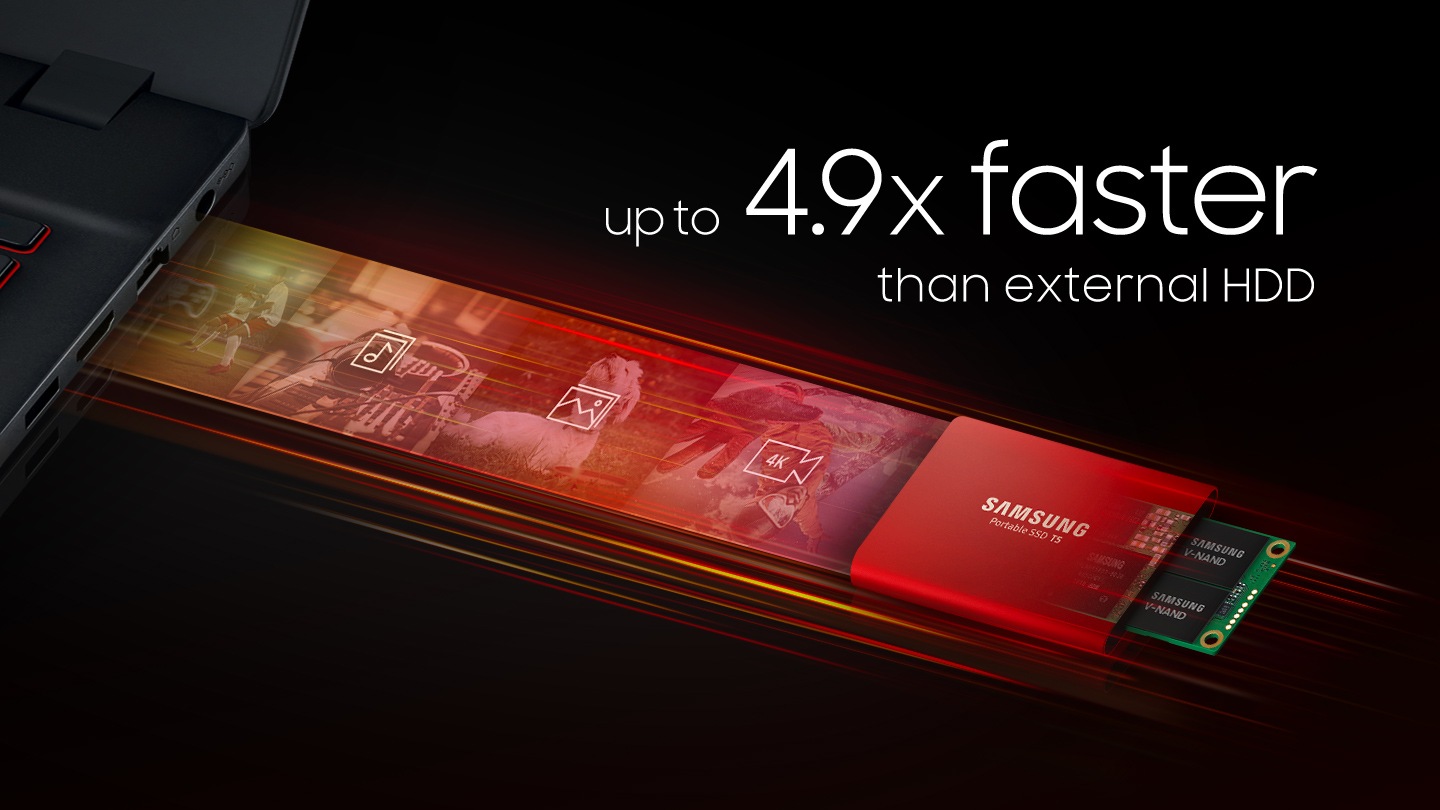 * Performance may vary depending on host configuration. To reach maximum transfer speeds of 540 MB/s, the host device and connection cables must support USB 3.1 Gen 2 and the USAP mode must be enabled.
** Based on internal test results comparing with a Samsung external HDD 500GB conducted under controlled conditions. Performance may vary depending on system environment and compatibility with USB 3.1. Test system configuration: Asus® Strix Z270E Gaming motherboard, Intel® Core™ i5-7600 @3.5 GHz, DDR4 1066 MHz 8 GB, OS-Windows® 10 x64, Performance measurements based on CrystalDiskMark 5.2.1 .
Metal minimalism
The top to bottom metal design and rounded unibody fits comfortably in the palm of your hand. The T5 comes in four distinct aluminum finishes – an alluring blue for 250 GB and 500 GB models, a deep black for 1 TB and 2 TB models and gold & red for 500GB & 1TB models.*
Compact and light
Smaller than the average business card, weighing just 51 grams, and only 10.5 mm thick. The compact, light and slim T5 is the perfect portable storage.