Samsung T7 SSD 1TB Portable USBC External Solid State Drive, Blue, PC1T0H
Read up to 1,050 MB/sec Seq.
Write up to 1,000 MB/sec Seq.
Shock Resistant
USB 3.2
Portable storage, on the go
The light, pocket-sized Portable SSD T7 delivers fast speeds with easy and reliable data storage for transfering large files. Whether you're storing critical business documents, games, or movies, the Portable SSD T7 gives you speed and durability in a palm-sized package. Introducing the new standard in external storage, available in three capacities to suit your needs: 500GB, 1TB, or 2TB.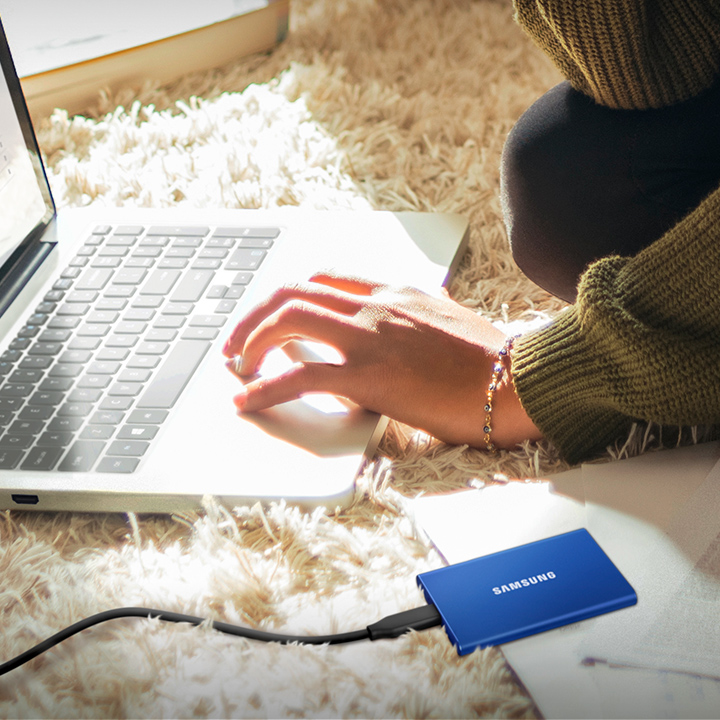 Transfer massive files within seconds with the incredible speed of USB 3.2 Gen 2 on the T7. The embedded PCIe NVMe technology delivers blazing fast sequential read/write speeds of up to 1,050/1,000 MB/s, respectively, making the T7 almost twice as fast as the previous T5 model.**
*Performance may vary depending on host configuration. To reach maximum read/write speeds of up to 1,050/1,000 MB/s, respectively, the host device and connection cables must support USB 3.2
Gen 2 and the UASP mode must be enabled.
**Based on internal test results compared to a Samsung external HDD 1TB(HX-MTD10EA). Test system configuration: ASUS Z370 ROG MAXIMUS X APEX (USB 3.2 Gen 2 Type-C), Intel® Core
i7-8700K CPU @ 3.70GHz(Coffeelake), OS-Windows 10 RS6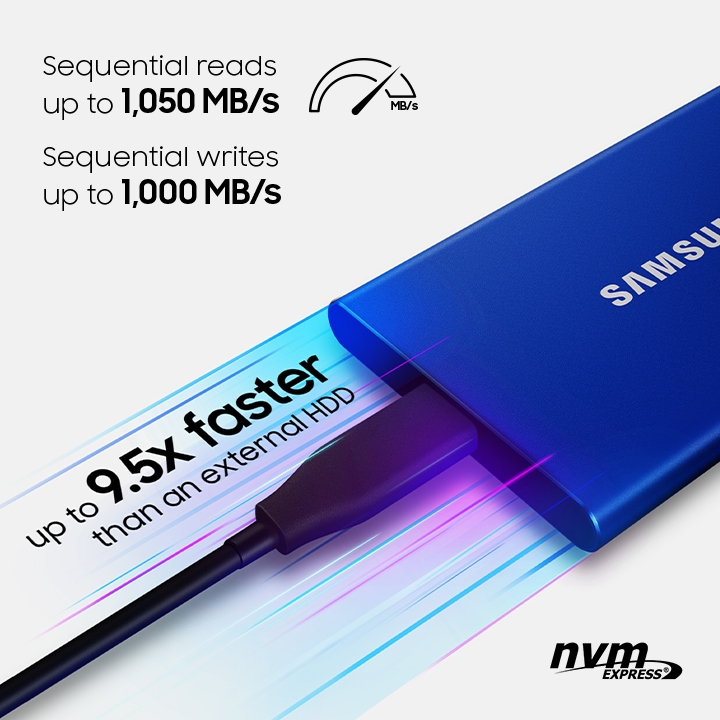 Unlike HDDs, the Portable SSD T7 has no moving parts so it's more resistant to shock. Plus, its solid aluminum unibody construction adds further protection, keeping your data safe from falls of up to 6 ft*.
Advanced heat control
Use T7 without the worry of overheating. It's advanced thermal solution uses ePCM technology and Dynamic Thermal Guard to withstand and control heat, so the Portable SSD stays at an optimal temperature even at fast speeds.
*T7 maintains its skin temperatures below 45ºc at all times, following the Samsung internal quality standards for heat management and safety.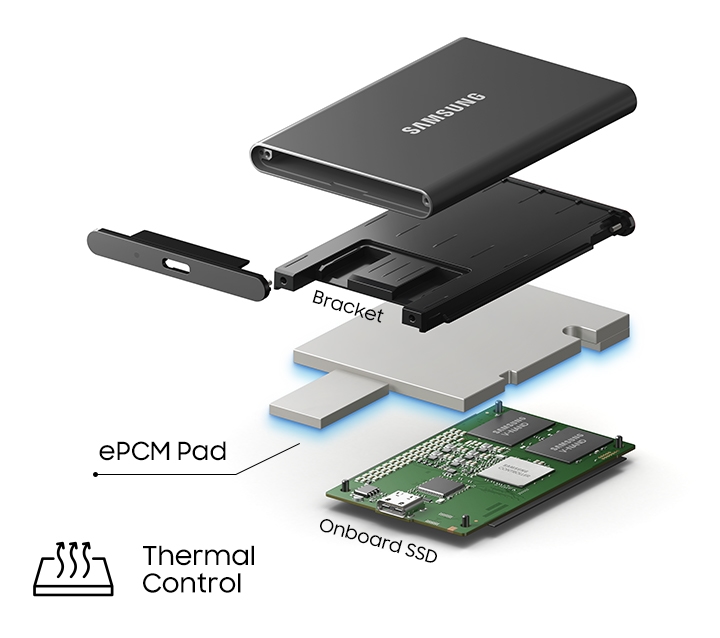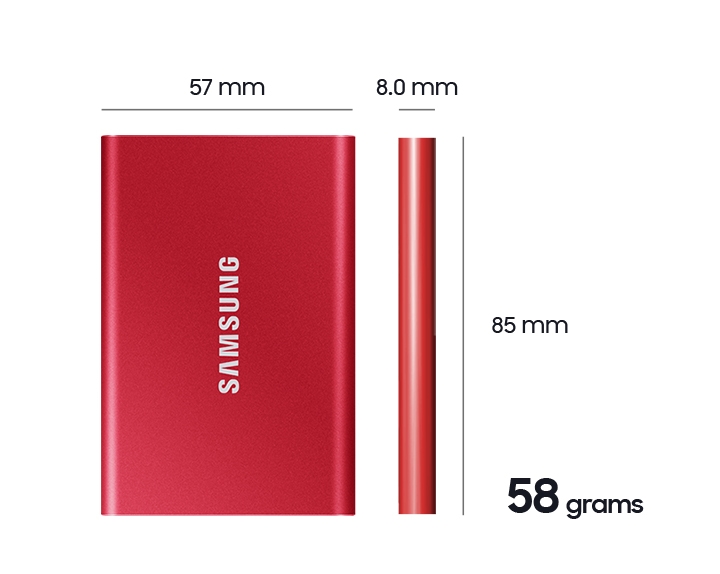 Sleek and compact style
Roughly the size of a credit card and only weighing 2 ounces, the T7 fits comfortably in the palm of your hand and is light enough to take your files on the go.
Multi-device compatibility
The T7 is compatible with PC, Mac, Android devices, gaming consoles, and more. Included in the box are USB Type C-to-C and Type C-to-A cables for added convenience.
*Compatibility with host devices may vary. Some operating systems may require T7 Touch reformatting. Please find the compatible devices list on www.samsung.com/support.
** T7 Touch is compatible with USB 3.0 and USB 2.0.
* Windows 7 or higher Mac OS X 10.10 or higher Android Lollipop or higher