Thermaltake Core X31 Gaming PC Case, Mid Tower, Advanced Ventilation, Transparent Window, CA-1E9-00M1WN-00
Power Cover Design
Power supply placement design is one of the Core X31 unique features. The entire bottom area can be used to reorganize unused cables, which makes for a tidy-looking system. Users can enjoy the freedom of gaining the maximum interior space for advance cooling performance or liquid system build. Furthermore, the PSU cover can hold two additional 2.5" HDD drive bays.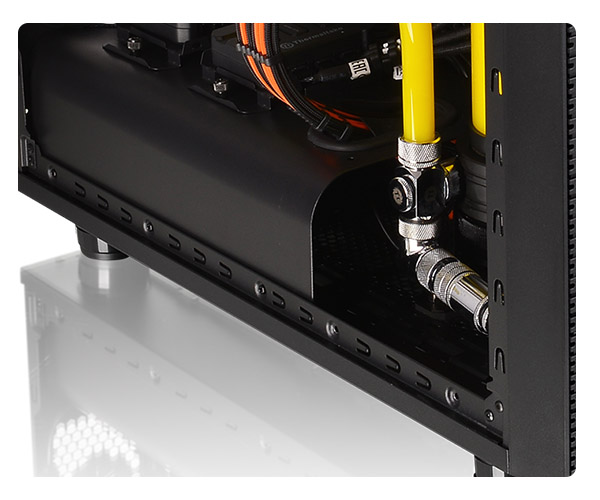 Fully Modular Concept
A "2 + 3" drive bay design for storage devices makes setting up the latest storage solution super easy and flexible. Besides hanging 3 x 3.5"/2.5" at the back of motherboard tray, users are capable of freely adjusting the 3.5" hard-drive cage to suit their particular needs.
Dust Reduction
Super-fine fan filters provide excellent protection and minimize dirt and dust on the top, inside the front-side panel, and at the bottom. A magnetic fan filter on the top makes it super easy to attach the filter for dust filtration.
Advanced Ventilation
Featuring a width of 250mm, the Core X31 enables users to build a complete high-end system that supports up to triple 120mm, double 140mm liquid cooling radiators or up to 200mm case fans. With extended graphic card support, the Core X31 protects the hardware while increasing the CPU's overclocking potential for users looking to get the most out of their hardware.
Remarkable Expansion
The Core X31's modular drive racks allow gamers to easily install up to seven data storage devices, a dual expansion slot VGA of up to 420mm in length, and a tower CPU cooler as high as 180mm. Even with a high-wattage PSU stretching to 220mm in length, the Core X31 gains more for custom cooling components to freely interchange HDD cage sections for maximum cable management space with adjustable drive racks.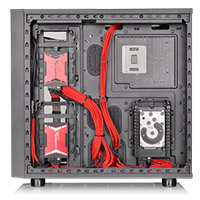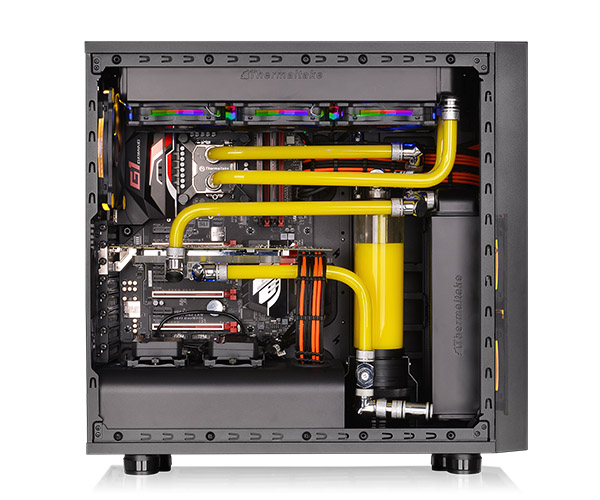 Core X31 Radiator Supporting List
Radiator Compatibility List
120
mm
140
mm
280
mm
360
mm
Front
*
*
*
*
Top
*
*
*
*
Rear
*
*
Bottom
*
*
Water 3.0 Compatibility List
Ultimate
Extreme/ Extreme S
Pro
Performer/ Performer C
Front
Top
*
*
*
*
Rear
*
*
Bottom
Core X31 Fan Supporting List
Fan Compatibility List
120mm
140mm
200mm
Front
2
2
1
Top
3
3
2
Rear
1
1
–
Bottom
2
2
–
Side (L/R)
–
–
–
Thermaltake Compatible Fan
120mm
140mm
200mm
Pure Fan Series
*
*
*
Luna Fan Series
*
*
*
Odin Fan Series
*
*