Transcend 4TB Portable Hard Drives, StoreJet 25H3 External Hard Disk, 2.5″ Inch Rugged HDD, USB3.1, TS4TSJ25H3P (Purple)
Portable Hard Drives
StoreJet 25H3
Transcend's StoreJet 25H3 ruggedized external hard drive combines supreme shock-resistant qualities with the USB 3.1 Gen 1 interface, allowing for ultra-fast file transfers and the highest level of anti-shock protection. With up to 4TB storage capacity, the StoreJet 25H3 eliminates all fears of running out of storage.
Lightning-fast transfer speeds
The StoreJet 25H3 external hard drive is equipped with the USB 3.1 Gen 1 interface, providing lightning-fast transfer rates of up to 5Gbps.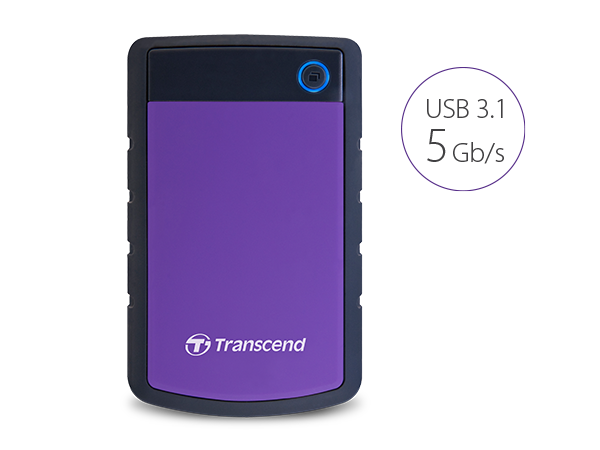 Excellent anti-shock protection
The StoreJet 25H3 features a three-stage shock protection system that meets US military drop-test standards to fully protect data stored on the drive. The three-stage shock protection system includes a silicone rubber case, an internal shock-absorbing suspension damper, and a reinforced hard casing.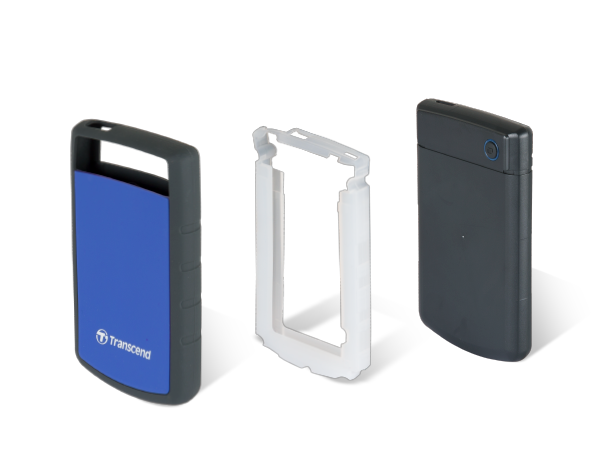 Capacious storage
The StoreJet 25H3 comes in high capacities of up to 4TB, so you can store and back up all of your files. Take this on-the-go storage solution with you and enjoy peace of mind!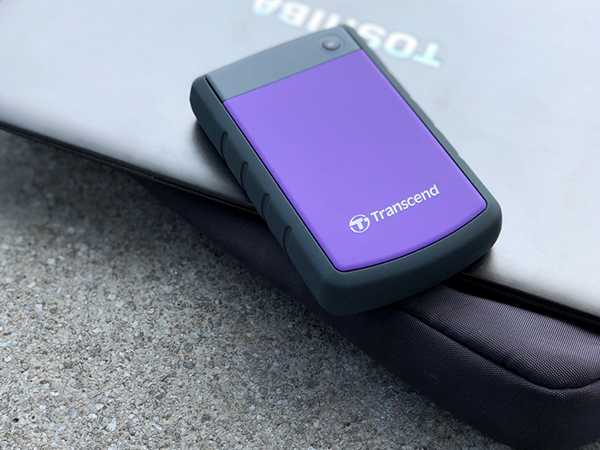 Two color options
The StoreJet 25H3 comes in navy blue and purple. Pick your favorite color!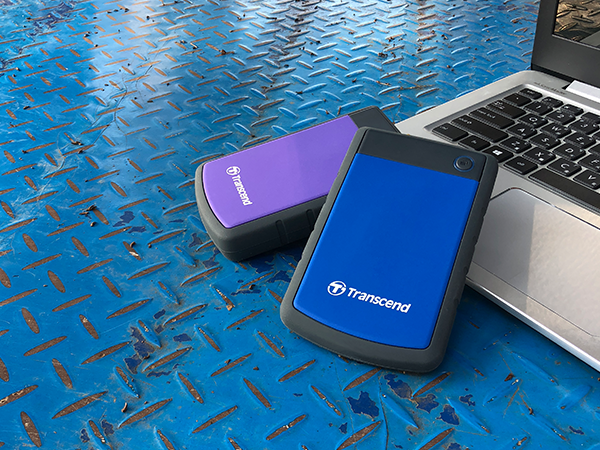 One touch auto backup
The StoreJet 25H3 is equipped with a one touch auto-backup button that instantly backs up your data with just one press*. The button also enables you to reconnect the hard drive to your PC without the need to unplug and reinsert it.
*Transcend Elite software is required.
Appearance
Dimensions1TB / 2TB: 131.8 mm x 80.8 mm x 16.3 mm (5.19″ x 3.18″ x 0.64″)
4TB: 131.8 mm x 80.8 mm x 24.5 mm (5.19″ x 3.18″ x 0.96″)Weight1TB / 2TB: 191 g (6.74 oz)
4TB: 298 g (10.51 oz)Color
Interface
USB Type
Connection Interface
Storage
Capacity
Storage Media
Operating Environment
Operating Temperature5°C (41°F) ~ 55°C (131°F)Operating Voltage
Note
Transcend Elite software is required for One Touch Auto-backup and AES encryption functions.
Warranty
Certificate
Warranty
Three-year Limited Warranty
Warranty Policy
Please click here for more information about the Transcend Warranty Policy.
Drop test is based on U.S. military drop-test standards MIL-STD-810G 516.6, and performed in non-operating state. This does not guarantee the invulnerability of this product under any circumstances. More information about Transcend's MIL-STD test can be found here.
System Requirement
Operating System
Microsoft Windows 7
Microsoft Windows 8
Microsoft Windows 10
Mac OS X 10.7 or later
Linux Kernel 2.6.31 or later