The first 120Hz, 4k pen display featuring both 98% DCI-P3 and 99% Adobe RGB with Pantone Validated certification as well as HDR Gamma support. For creatives, game developers, videographers and photographers and everyone looking for a professional pen display.
Wacom Cintiq Pro 27 is designed for more comfort through our slimmest bezel ever and individual mounting options. This graphic display comes with the new Wacom Pro Pen 3 – 36 pens in 1 pen. Adjust the pen weight, gravity centre and number of buttons amongst other options to make it truly YOUR pen.
Breakthrough performance for inspired creativity
High end 4k display with 120HZ and 10ms refresh rate
99% Adobe RGB and 98% DCI-P3 and HDR support
Modern design including 8 easy accessable ExpressKeys
Multi-touch and pen control incl. pen gestures
New customizable Pro Pen 3 experience
Near-zero pen & screen latency
Low activation force and great drawing experience
Best desk integration with small footprint and expandable bezel for even more comfort
Wacom Pro Pen 3
Morphs to the way you make
From the inside out, Wacom Pro Pen 3 can be configured to your favorite feel. With customizable weight, grip thickness, pen buttons and center of balance, find the configuration that suits your style. This tailor-made approach to design delivers an unforgettable creative experience.
8,192 levels of pressure sensitivity, 3 side switches
State of the Art Pen Technology: 3rd generation Wacom Pen technology
Perfect Custom Fit: Customizations for weight balance, different grips or no-side-switch included
Tilt recognition: Improved tilt+/-60 degrees
Super Responsive: The Pro Pen 3 senses every nuance and every change, so even the lightest of touches will appear on the screen
Superior image quality with the best Wacom display ever
Studio-quality performance, improved design and better ergonomics
Brings harmony between creator and tool
The new Wacom Cintiq Pro 27 is a high end graphic display offering superior image quality on a premium class 27″ LCD panel. The 4k display with 10bit color shows clear and crisp content with a high color performance and calibration options. The new design with reduced bezel size and smaller dimensions makes the Wacom Cintiq Pro more space efficient on the creator's desk. In combination with the new, improved, next-generation, customizable Wacom Pro Pen 3 every detail of the Wacom Cintiq Pro 27 has been engineered for effortless harmony between creator and tool.
Experience colors at high end industry standard level



The Wacom Cintiq Pro 27 covers 99% Adobe RGB and 98% DCI-P3 color spaces and supports HDR Gamma. Cintiq Pro 27 meets Pantone's* strict testing and calibration requirements for reproducing real world Pantone Colors and skin tones digitally. The visual experience is proven by the Pantone Validated and Pantone SkinTone Validated certificates. In addition professional creators can reliably display HDR (high dynamic range) content on the Wacom Cintiq Pro 27. The display is equipped with HLG (hybrid log-gamma) and the PQ (perceptual quantization) curve for displaying and editing HDR video content. ​The optimized gamma curves render images to appear more true to how the human eye perceives the real world compared to SDR (standard dynamic range)
*Pantone is the leading global color authority and provides a universal language of color that enables color-critical decisions through every stage of the workflow for designers, producers, brands, and manufacturers.
120HZ refresh rate and 10ms response rate
Work as precise as never before with 120 HZ refresh rate and 10 ms response time – unique features in the pen display market. This high-end perfomance allows near zero latency and parallax for maximum control even of fast moving content in film, game design and VFX.
Improved ergonomics for long working hours
Never get lost of your creative momentum. The 8 repositioned ExpressKeys(TM) in the new rear grip of the display allow you to stay focused. Each one can be configured with your favorite shortcut and your creative work will become smoother and more efficient. Intuitive multi-touch gestures, like panning, zooming and rotating, allow you to completely immerse yourself in your creative process. Seamlessly switching between touch gestures and pen strokes in a single move.
More options for more comfort
Attach easily your camera arm, smartphone, video light or other tools to the Wacom Cintiq Pro 27. The display has 4 standard 1/4 inch photo thread mount options, that allow you to integrate it seamlessly to you workspace. Add the Wacom Extension table (sold seperately) to get even more space for your keyboard, reference books, Loupedeck console or whatever makes your work easier. Another perfect match is the Wacom Pen Tray to have the your Wacom Pro Pen 3 always at hand and also store your spare nibs and grips.
Settings as unique as your art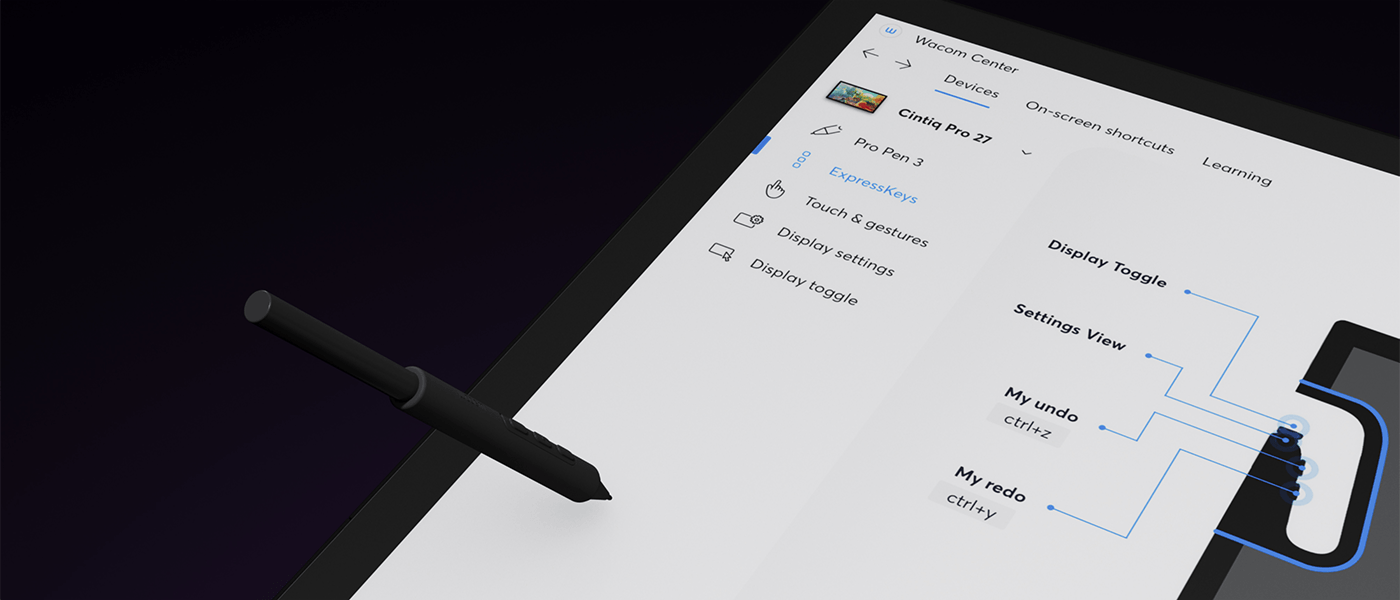 Your great taste doesn't stop at your creations, it expands to the way you create too. The all new driver interface provides many new options to speed up and simplify your creative experience, including customizable pen gestures and on-screen pen and touch controls. With this, you have a degree of control never before seen on a Wacom pen display.
Bonus Software Included
A faster way for creatives to send massive, time-critical files
MASV
MASV is the fastest and most reliable way for video and creative pros to transfer large, time-critical files. Professional-grade videos created on your Wacom Cintiq Pro, Wacom Cintiq, or Wacom Intuos Pro with software like Adobe Premiere Pro, Adobe After Effects, and Boris FX Suite result in huge files. MASV is designed for just that— 100+ GB files —the kind of volume that chokes other services.
Bluescape is the platform for creative collaboration. Streamline workflows with all your ideas, assets, iterations, and entire projects into one virtual workspace. Reduce meetings and finish projects faster in a secure platform* trusted by Fortune 100 companies and the world's largest movie studios.
*To get your 3-months complimentary access you need to sign-in or create a Wacom ID with your personal data and register your device. To begin using Bluescape, registration with Bluescape is required.
Clip Studio Paint EX
Unleash your inner artist with Clip Studio Paint EX – the all-in-one solution for illustration painting, manga and comic creation. With its emphasis on drawing and painting you can design just as you would on paper or canvas while accessing the best features of digital painting. Take your creativity to new levels with Wacom Cintiq and get up to 6 months of Clip Studio Paint EX free.
3 months access to user-friendly 3D design and prototyping software
Go from idea to 3D prototyping in minutes, create anywhere, and export manufacturable models with Shapr3D. Compatible with all major desktop CAD software, Shapr3D makes design approachable and accessible.*
*To get your complimentary software you need to sign-in or create a Wacom ID with your personal data and register your Intuos. To begin using Shapr3D software after installation, registration with Shapr3D is required.
The Wacom Cintiq Pro 27 offers you the possibility to use your favorite stand or desk mount to enable the most comfortable work experience. Thanks to the VESA 100 mount option a wide range of 3rd party mounts like monitor arms, desk mounts and many more are supported. If you want to use a third party mount make sure it meets the following requirements:
Supports display weight of minimum 8kg
Arm/mount supports VESA 100 (100×100 mm)
Should support swivel (90°) and rotation (180°)
Ideally available in black to match with your new Cintiq Pro
Adjustable springs to counter display weight