XPG 750W PSU Core Reactor 80 Plus Gold Certified Fully Modular Power Supply
BUILD UP YOUR CORE
● 80 Plus Gold Certified
● Compact with Modular Design
● Intelligent, Low-Noise Fan-Curve
● Premium 100% Japanese Capacitors
● Industrial-Grade Protection
The XPG CORE REACTOR is a modular, 80 Plus Gold power supply unit equipped with 100% Japanese capacitors. Combined with Line Level Control (LLC) resonant topology, it is power-efficient, reliable and makes creating a tidy build easy.
80 Plus Gold Certified
The 80 Plus Gold certified XPG CORE REACTOR gives you 90% efficiency at 50% load. It comes in 650W, 750W, and 850W for different needs.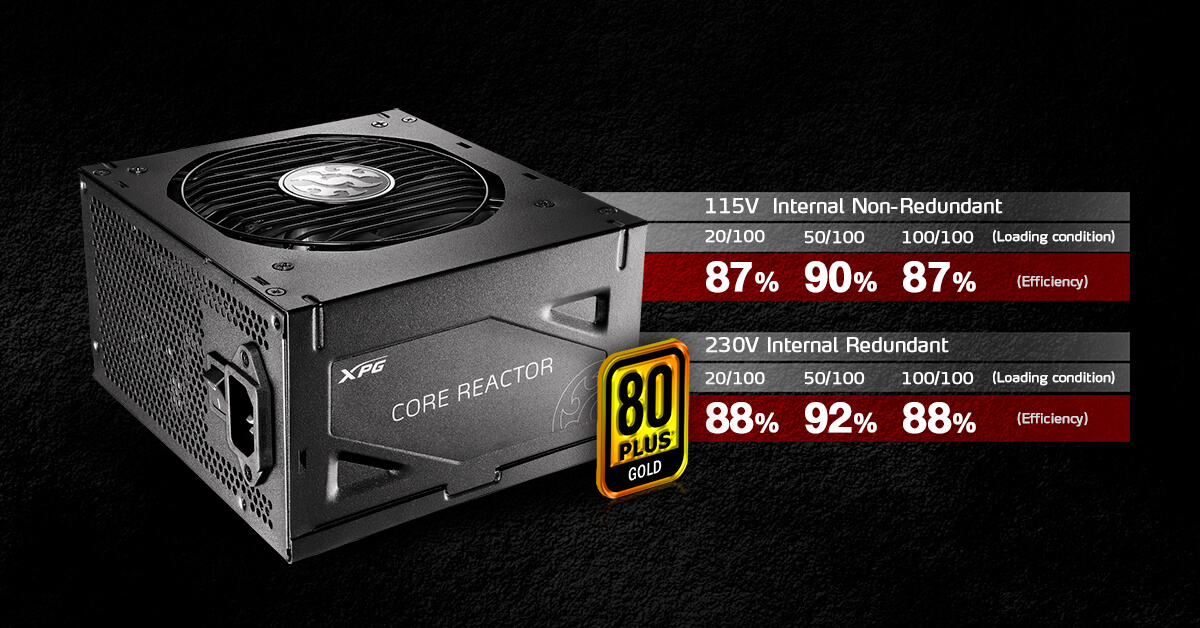 Cybenetics LAMBA / ETA Certified
The XPG CORE REACTOR modular power supply surpasses Cybenetics LAMBDA-A and ETA-A certification standards to meet the exacting needs of gamers for power transfer efficiency and low-noise operation.
* The Cybenetics rating level mentioned above applies to the XPG CORE REACTOR 750 and 650. For information concerning the XPG CORE REACTOR 850 please visit this link :
https://www.cybenetics.com/index.php?option=database&params=1,0,107
PSU Specifications
| | |
| --- | --- |
| Dimension (W x L x H) | 150 x 140 x 86mm |
| 80 PLUS Rating | GOLD |
| ATX Version | Intel ATX 12V V2.52 |
| Protections | OCP / OVP / UVP / OPP / SCP / OTP / NLO / SIP |
| Certification | CB / TUV / cTUVus / CCC / CE / FCC(IC) / BSMI / RCM / KC / NOM |
| PFC | 0.99 |
| Input Voltage | 100V-240V |
| Input Current | 10A-5A |
| Input Frequency | 47Hz-63Hz |
| Operating Temperature | 50℃ |
| Fan Size | 12cm |
| Fan Bearing | FDB |
| Fan Speed | 2400 |
| Noise Level @ 20% | 11.2dB(A) |
| Noise Level @ 50% | 850W : 11.3dB(A) / 750W : 11.3dB(A) / 650W : 11.2dB(A) |
| Noise Level @ 100% | 850W : 24.7dB(A) / 750W : 22.7dB(A) / 650W : 22.3dB(A) |
| MTBF | 100K hours at full load |
| ATX 24 Pin Connector | 1 |
| EPS 8 (4+4) Pin Connector | 850W : 2 / 750W : 2 / 650W : 2 |
| SATA Connector | 12 |
| Peripheral 4 Pin Connector | 4 |
| PCI-E 6+2 Pin Connector | 850W : 6 / 750W : 6 / 650W : 4 |